Word Gallows - A game to test your knowledge of words and your guessing ability. To play this game, you enter letters into your Palm's graffiti area or using the onscreen keys. If the letter entered is contained in the word, that letter is displayed. If its incorrect, a body part is added to the Gallows. You are given six (6) body parts (guesses), a head, body, 2 arms and 2 legs. If you do not guess all the letters in the 6 tries, you lose. This release has an Easy level. This level gives you 2 chances per wrong guess instead of the normal 1 guess.
You may obtain a hint by selecting Hint from the menubar or use the shortcut key H. At the completion of each game, you may view the defintion of the word. Please note, that this meaning may be one of many and may not be the common defintion is use.
Use different Word Lists, 3 are included, more to come. The default Word List contains about 150 words. Also included 650 3-Letter words. This sounds easy, but its harder than you think. A third Word List is a list of States. The Hints for this Word List is the States Nickname. If any word contains a non-letter (like a period(.) or a space (as in the states), then that character will be displayed for you. Spaces will be displayed as *.
All Word Lists can be modified using GallowsDB. This feature will allow for additional Word Lists to be generated and installed at anytime. To Change the Current Word List, from the Welcome Screen select the Menu and then Change Word List option (Registered Version only). You will be presented with all Word Lists installed. Select the one you want to use, by tapping on it and then tapping the Select Button. This Word List will be in use until you change the list again.
Downloadable Word Lists: (requires Version 2.2)
Below are 2 additional word list that can be added to the full version of Word Gallows 2.2. The first contains words associated with diabetes. There are 200+ plus words. The second is words associated with Medicine, including an additional 180+ words. Once installed on your Palm device they will automatically be seen by Word Gallows. You may modify any of these word lists using the GallowsDB program.
click here to download Medical word list


Word Gallows
Version 2.2


Word Gallows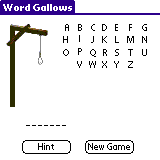 Screenshots
Requirements: Palm OS 3.5 or higher is recommended.

Compatible Devices/Operating System: Clie' PEG-N760C, Handera 330, Handspring Platinum™, Handspring Prism™, Handspring Treo, Handspring Visor Deluxe, Handspring Visor Edge, Handspring Visor Pro, Palm i705, Palm III, Palm IIIc, Palm IIIe, Palm IIIx, Palm IIIxe, Palm m100, Palm m105, Palm m125, Palm m130, Palm m500, Palm m505, Palm m515, Palm V, Palm VII, Palm Vx, Palm Zire, Sony Clie, Tungsten series, Zire series