Steppin Out!
Version 1.3


Steppin Out!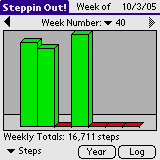 Screenshots
Requirements: Palm OS 3.5 or higher is required.

Compatible Devices/Operating System: Clie' PEG-N760C, Handera 330, Handspring Platinum™, Handspring Prism™, Handspring Treo, Handspring Visor Deluxe, Handspring Visor Edge, Handspring Visor Pro, Palm i705, Palm IIIc, Palm IIIx, Palm IIIxe, Palm m100, Palm m105, Palm m125, Palm m130, Palm m500, Palm m505, Palm m515, Palm V, Palm VII, Palm Vx, Palm Zire, Sony Clie, Tungsten series, Zire series
User Reviews:
I've been using Steppin Out for several months. It's an excellent program and motivational tool for anyone who wants to keep track of their steps, calories burned, distances, heart rate, personal notes, etc. Even if all you're interested in tracking only your step counts, I would recommend this software, which is very simple to use. Customer support is EXCELLENT; I received same-day turnaround on a problem that was fixed in just a few hours. Suggestions I made for enhancing the program were incorporated into a new version 1.1, which was just released.
Download the trial version and check it out!