This program allows you to easily record your blood glucose values from your self-test kit. Along with each entry, you can record the date/time the event occurred, such as Pre-meal, exercise etc, as well as any insulin you may have taken. View the results and find the average. You can export the data to your Palm's MemoPad as a CSV file. You may also enter personal information such as Name, Address, Drs Name and Phone, Meds taken and your next Doctors appointment. You may also enter up 2 different medication types and a default dosage.
Program Features:

Edit Medication from popup menu
Easier Registration Screen
Medication - Enter a default Dose
Dose is auto-filled, if a default dose is entered.
Make sure to read the included readMe.txt and documentation for program details
A desktop companion program is available to registered users only, which allow you to export the data to either a CSV file or to a Microsoft Access database. You may also view the data and create a report for your Doctor.
If you are a registered user of this program us an email for details on how to receive the desktop program.

This program is currently being used in the Australia, United States, Canada, Netherlands, Thailand, United Kingdom, Mexico, Finland, Spain, Hong Kong, Qatar, United Arab Emirates, Venezuela, Ireland, New Zealand, Lebanon, Singapore, Norway, Sweden, Brazil, Malaysia, Switzerland, Belgium, Sri Lanka, Germany, Philippines, France, Croatia, Chile, Ukraine, South Africa and Luxembourg.


My Blood Glucose Log
Version 1.9 Build 30


My Blood Glucose Log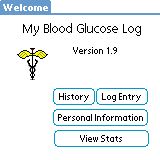 Screenshots
Requirements: Palm OS 3.1, but Palm OS 3.5 or higher is recommended.

Compatible Devices/Operating System: Clie' PEG-N760C, Handera 330, Handspring Platinum™, Handspring Prism™, Handspring Treo, Handspring Visor Deluxe, Handspring Visor Edge, Handspring Visor Pro, Palm i705, Palm III, Palm IIIc, Palm IIIe, Palm IIIx, Palm IIIxe, Palm m100, Palm m105, Palm m125, Palm m130, Palm m500, Palm m505, Palm m515, Palm V, Palm VII, Palm Vx, Palm Zire, Sony Clie, Tungsten series, Zire series
Download Version 1.3.90 update
Download Version 1.9.32 update
The above file is an update and is only for those registered user that have Version 1.9.30 or earlier installed. As of this release if you are using Version 1.9.30 or earlier, do not download the updates from any EDS site (Handango, Our Store, etc) as your existing registration code will not work. Obtain the update from the above link only.